Dark Moon Books is the newest imprint from Stony Meadow Publishing. Our plans are to publish a minimum of two books per year. The genre is horror. That's right. We need more scary stuff to keep us up late at night! Subject matter will include everything from vampires and zombies to werewolves and witchcraft.
We are currently closed to new submissions. We will re-open for submissions in March of 2011 and will be accepting horror novels, horror novellas and graphic novels. Please check our submission guidelines or simply contact us for more information.
We also invite authors to participate in our horror short story contests. Visit HorrorWritingContest.com for more information.
COMING SOON: A Revised Edition
Forever Zombie: A Collection of Undead Guy Tales
Not your typical blood and gore zombie tales, even non-zombie fams should enjoy these stories. With twelve tales with lots of tongue-in-cheek humor, you won't want to miss this one. You can check out one of the short stories, Every Death You Take with a simple click of the mouse. (Interested zombies may need someone to read the story aloud to them...) You can also visit the Forever Zombie website. Forever Zombie is also available through Amazon and other online bookstores.
"Forever Zombie caught me by surprise. There is a sinister humor here reminiscent of Edward Gorey, and a playfulness that echoes Roald Dahl. It's a curious mix, but it works great. Trust me: whichever way your pleasure tends, whether it's a subtly placed bit of characterization or a deliciously plotted twist ending, you're going to find something to love here. Forever Zombie is a hit!"
--Joe McKinney, Dead City and Apocalypse of the Dead
NOTE: "Forever Zombie" is currently unavailable as it is undergoing a major edit. The revised version will be available the 2nd quarter of 2011. Put your name on our mailing list and we'll let you know when it is available.
Dark Moon Digest: The Horror Fiction Quarterly

If you donít own a nightlight, maybe nowís the time to invest in one. Thatís because Dark Moon Digest - The Horror Writerís Quarterly is now available. Dark Moon Books is proud to present this new and exciting publication geared toward horror fans and authors alike. Published four times per year, this 100 plus page magazine will be a solid addition to any horror enthusiastís library. Each issue will contain several short stories (many of them from new and emerging authors) that will tingle your spine and heighten your senses. Issues will also include horror poetry, columns, book reviews, contest information and more. And beginning with Issue #2 you will find the first installment of a chilling 4-part serial by up-and-coming horror author, Kevin McClintock. Our first serial "graphic novella" also begins in the second issue with great artwork by Marc Olivent.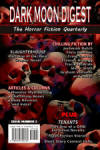 Dark Moon Digest will be available in e-publication format as well as hard copy. (Cover prices have not been established, but we intend to keep these as low as possible.) We just want to create a new marketplace for horror writers as well as a new venue for horror enthusiasts. And now, better check to see if you have a nightlight thatís workingÖ
Future issues will be published in January, April, July and October. The October issue will be a special "ghost story" issue. Writers are encouraged to submit short stories for consideration and check out our ongoing contests as well. Visit the web site for complete details.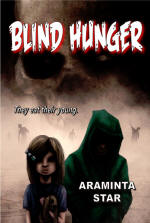 Blind Hunger
by Araminta Star
When the adults in this small town become monsters, itís time for the children to grow up. And fast. Nestled in the pine-studded hillsides of New England rests the town of Newton, population 3,812 Ė and that population just got a heck of lot smaller. That is, if the Census Bureau decides not to count the walking dead. After a terrible accident at a scientific facility, an uncontrolled virus sweeps through the cozy town of Newton turning all the adults into black-eyed, flesh-eating zombies, and only a handful of children trapped inside an abandoned high school seem to know about it. Will a nine year-old genius, a street-smart tween maladjust, a pair of high school sweethearts, and a jealous little sister be enough to outmaneuver the chomping jaws of the zombie hordes that surround them? And if all the adults have become the legions of the undead, who will protect them?
---
BOOK SCHEDULE FOR DARK MOON BOOKS
Forever Zombie: A Collection of Undead Guy Tales
Available Now
Dark Moon Digest - Issue #1
Available Now
Dark Moon Digest - Issue #2
Available Now
Dark Moon Digest - Issue #3
March 2011
Blind Hunger (Araminta Star Matthews)
Spring 2011
Tenants (Kevin McClintock)
2011